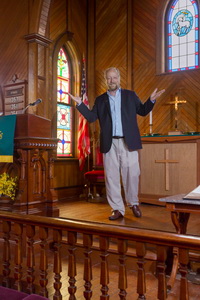 Speaking, Workshops and Seminars
As a Certified John Maxwell Coach, Trainer and Speaker, I offer customized presentations, classes and workshops to fit your company or organization's needs and budget such as:
Keynote speech for your company sponsored event
Half day and full day workshop/seminar
In-house corporate training
Custom Web Based Training and workshops
Executive and personal retreat
At times organizations pick one of the topics I specialize in such as....
Developing your inner leader

Developing leaders from within your organization

The Power of Personal Development

Everyone Communicates, Few Connect

Simplifying Anything

The Power of Significance - Intentionality in your life

Spirituality in life and work

Building Presence (Marketing)

Leading from the Middle

Finding Joy

Creativity

Project Management

Building Corporate Culture

Spiritual Gifts

A variety of classes on writing, both personal and professional writing.
Other organizations ask me to customize a topic to fit their culture or needs.
Many of my courses and seminars are built around best selling novels and books, combined with my own unique and successful experiences. Every talk or workshop is customized to your group, your mission and your people. They can be done on site, or virtually, using webinar technology. From time to time I offer these courses on-line.
The 7 Habits of Highy Effective People by Stephen Covey

The Artist's Way by Julia Cameron

The 21 Irrefutable Laws of Leadership by John Maxwell

Everyone Communicates, Few Connect by John Maxwell

High Trust Selling by Todd Duncan

The Four Agreements by Don Miguel Ruiz

A Whole New Mind by Daniel Pink

The Power of Less by Leo Babauta

Dancing with Depression by Tom Atkins
How can I help you? Contact me and let's talk. Everything great begins with a conversation.